BOHO WEDFEST VEGAN BARN WEDDING WITH DIY DECOR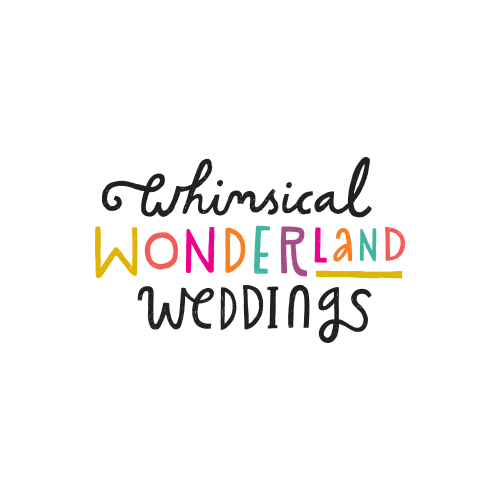 A bright and beautiful start to the day courtesy of WWW readers Sarah and Tom with their gorgeous The Barns at Lodge Farm wedding in Essex. Hooray! Their day had so much personality, as they described their day to me as "non traditional, wedfest, boho, American feel, car influenced" and of course it was all totally and utterly awesome!
After a proposal in their favourite spot in Cornwall, Sarah and Tom set about planning their wedding for 14th September 2019, the barns were perfect for their cruelty free theme and were also a real blank canvas for all of their crafty touches. I especially love the macramé decor Sarah made, with an epic backdrop and pretty chair decorations working wonderfully in the barn. There were touches of blue throughout too, Sarah wore a gorgeous blue gown, there were blue flowers and the bridesmaids were in mismatched tones including blue frocks. Tom and the groomsmen looked really cool in braces and chinos with Tom adding a waistcoat too.
Do look out for cool transport throughout, a vegan food truck, glitter station, personalised faux leather jackets and hoop bouquets. It was all so so cool you guys! I also have to shout out about their stunning buttercream cake as it was made by the lovely Minkiemoo Bakery who made our dessert table back in 2010. I can confirm their treats taste just as good as they look. Yum!
Stevie Jay Photography, thank you ever so much for sharing these really very lovely images with us, what a feast for the eyes.
THE PROPOSAL
Our favourite place has got to be Cornwall! It was back in 2016 and me and Tom were heading towards our 10 year anniversary! We first met we were 16 at our very first part time job. So Tom had booked this beautiful little log cabin just outside of St. Ives. I just knew he was up to something as he refused to take our furbabies (we take them everywhere). We left our dogs with the mother in law and off we went. On 14th September 2016 we were sitting by the harbour in St Ives eating a pasty (of all things!) Tom had finished his first and he just sat there seeming a little nervous. Once I had finished mine he just came out and asked me! It was absolutely perfect for us! The weather was warm and we were together in our favourite place in the world!
Tom didn't have a ring ready as he wanted us to choose one together while we were away in Cornwall, so that was the next thing we done! We looked in various jewellers until we came across this little independent jewellers, they had some beautiful vintage looking rings and I choose a white gold ring with a beautiful tanzanite stone set on top!
THE VISION
We are far from traditional we wanted a barn setting with lots of open space! We were also very passionate about having a 100% vegan wedding which I'm proud to say we archived! We had vegan caterers, vegan cake, vegan make up artist, bio-degradable glitter and of course our faux leather jackets for the bridal party! Pinterest was my best friend for the 3 years we had for planning, no idea how many hours I spent looking online and pinning ideas for our boho vision. Our theme was wedfest so a glitter bar and DIY flower crown station was defiantly part of our vision! We are also both huge car enthusiasts (Tom more so of course) so we definitely wanted a car influence with a boho feel. We wanted a relaxed vibe with good music and vegan festival style food. The ceremony had to be boho and we decided on a rug aisle with a macramé backdrop!
THE PLANNING PROCESS
Between the proposal and the wedding we had 3 years! However we didn't actually book our wedding until January 2018 so we technically only had about 18 months. We had this great idea to also buy our first home around the same time! (It wasn't a great idea – don't do this lol) this made things incredibly stressful but we decided that Tom would focus on all things house and I would focus on all things wedding. So I set about to looking for the perfect barn setting venue which of course would allow dogs too. Once this was found I then booked our registrar and all the other legal bits, next at the top of my list was photographer! This had to be perfect, after all; the photos and memories are all you have left after the big day! Then it was onto other suppliers and of course the ever so talked about in any wedding; "THE DRESS"
Even though we made things more stressful by choosing to buy our first home, the whole process went smoothly (apart from our caterers pulling our 3 months before) I didn't spend too much time debating over suppliers, if it felt right then we booked and it all seemed to work out.
BUDGET
We didn't set a fixed budget but we were comfortable around the 15k mark.
THE VENUE
We had our wedding at the beautiful; The barns at lodge farm in Epping, which just so happens to be a family run grain farm (again aiming for the cruelty free theme) for over 100 years! I actually found these guys on a hire my field webpage as I was initially looking into getting a tepee for the reception. I set up a viewing in January 2018, it was snowing, it was cold and the venue had just started their renovations! Bryony (venue manager, who is awesome by the way) had decided to renovate some of the barns on her family run farm to host weddings. When we first viewed the venue none of the renovations had even been started, the large barn which we had our reception in even had some tractors casually parked up inside, the ceremony barn was still in the process of getting licensed for weddings too. Bryony showed us her plans and designs of how the place was going to look, we took a huge gamble but it certainly paid off! The venue is absolutely stunning, the whole team at the Barns done an amazing job. Yes this was the first venue we looked at and to be honest even if the renovations weren't done we still would have loved it! The venue gave us the true wedfest, boho feel we were looking for! And of course most importantly Daisy and Tilly (our furbabies) were welcomed with open arms. Bryony cares hugely about every single wedding the venue hosts. She made the whole planning process such a breeze, she was on hand for any questions we had and let us come back to the venue whenever we wanted. Bryony is a great manager and its these little things that really help during the whole process.
YOUR OUTFITS & ACCESSORIES
Groom – so in true groom style; Tom left till just a couple weeks before our big day to decide to go shopping! He didn't want a full suit and neither did I if I'm honest, it just wouldn't suit our vibes! He went to our local shopping centre and picked up his trousers from M&S along with his braces and plain white shirt, his waistcoat came from Burton and colour on the back matched the colour of braces (see some guys can colour match hehe).
Bride – from the moment we got engaged I was looking online for dresses! I found Lucy Cant Dance pretty early on while looking through Instagram! Her dresses were right up my street and I fell in love with one called "Barbrella" (cool name right?) I didn't get full into looking for dresses until we were about 9 months out! I booked an appointment at the amazing Rock the Frock bridal in Essex who luckily stocked Lucy Cant Dance along with other designers! However I was still dreaming of Barbrella and unfortunately Rock the Frock didn't stock it! Luckily for me Lucy's show room was just down the road again in Essex so I set about booking an appointment with her! Again I tried on a number of designs including Barbrella! Would you believe it – the dress that I had fallen in love with almost 3 years ago was THE ONE I was over the moon and Lucy was so lovely to work with!
Next up was accessories; the groom had a pocket watch attached to his waist coat which was an heirloom from his dad that originally came from his grandfather who is no longer with us! For myself (the bride hehe) I just HAD to have a flower crown, I decided to find a good dried flower crown so I could keep it after our day! I spent weeks and weeks looking for the right one and finally I found a lovely designer on Etsy called English Flower Farmer. I chose a beautiful wild flower one and even got matching slides for my bridal party! As for jewellery, I wore my engagement on the left hand until after the ceremony, I also wore a necklace that I have worn almost every day for the past 12 years – it is a dainty silver chain with a heart pendant which Tom gave to me for our first ever xmas together, finally I had some dropped pendant earrings which had a small dried blue cornflower set in resin in the shape of a heart.
BEAUTY
Ok so on a day to day basis I'm not one to apply a full face of makeup or style my hair too much! But this was my wedding day and I wanted to look and feel amazing so I set about looking for someone who would take on the challenge of 6 bridesmaids and myself! I ideally wanted someone who could do both hair and makeup and of course preferably someone who used vegan/cruelty free products.
So I found "Bambi – that vegan salon" through facebook who is run by a lovely lady called Gina who herself is vegan and so uses all vegan products and does both hair and makeup!
Gina was so lovely to work with and what she created was just as I pictured! She brought a second person with her on the day to help get all 7 of us ready for the big day!
THE READINGS & MUSIC
As we weren't planning a traditional wedding we didn't plan on any readings, however Tom's oldest friend and one of his groomsmen; Adam wrote us a beautiful poem which he read during our reception.
As for music; for our entrance we played 'Damien Rice – blowers daughter' the words meant everything to us! We then had Jack Johnson – better together playing while signing the register and finally we walked out to Florence and machine – you've got the love just because we wanted something fun and upbeat to play after the ceremony.
During our reception for music we had the EPIC slippers the split DJ, as I said above we wanted a car influence so we hired a DJ where his booth is a VW camper van, it was a little more pricey but totally worth it!
THE FLOWERS
The flowers were created by the ever so talented Nadine from Spinney Cottage. Nadine was a recommendation and friend of the grooms Mum. Nadine created a dream boho bouquet which I have since dried and set in resin to keep forever! Nadine was amazing to work with and knew exactly what I wanted! She created amazing floral displays in some old milk churns that the venue allowed us to use! She also supplied the greenery table runners and made the buttonholes.
As for the bridesmaids hoops; yes I opted for hoops! She had these amazing wicker hoops made to display her amazing work! My 2 maid of honours had sunflowers to match my bouquet and the remaining 4 had stunning greenery wrapped around their hoops.
Nadine done an amazing job and captured my vision perfectly!
THE DETAILS & DÉCOR
Lets start with the bridal party transport because it was epic! My dad is a huge bus enthusiast so I just had to do something for him on our wedding. I found a company that hires out vintage buses. We had a beautiful white and blue (which of course matched my dress – not planned, promise haha) the whole bridal party including my parents and the photographer all travelled together.
We hired our furniture from the wonderful Anthology Vintage Hire who was a recommendation from the venue! They supplied the tables and chairs for the reception and also the great soft seating area we placed outside in an open small barn area.
I crafted a lot of things for our wedding and set everything up ourselves with the help of family the day before our wedding.
As we were going for boho theme I taught myself how to create macramé watching tons of youtube videos. I made our huge 6.5ft tall by 5ft wide backdrop which we used as an alter in the ceremony and then as a backdrop for our polaroid guest book during the ceremony! We then made a wooden arch ourselves to anchor it on, which may I add we put together just a few days before the wedding 'panic'! I also made matching chair backs for the bride and groom chairs and got wooden signs from ebay to hang on the back.
I sourced all the rugs for the aisle second hand (reuse, recycle, reduce and all that) mainly from facebook market place! I think they turned out perfect. We used some beautifully decorated glass bottles with LED lights in them to place on the trestle tables for the reception, I also made some hoops with wooden signs ; bride & groom (painted in blue for the bride to match my dress and maroon for the groom to match his waistcoat/braces) these were placed on our dessert table.
Tom got hold of a vintage red drinks cooler which he wanted to use for our card box and I found some LED initials which we placed on the table for cards and gifts and we think it turned out great!
Of course we had a table to hold our DIY flower crown station and glitter bar. This table also had our guest book and polaroid camera with some photo props which I bought from Amazon.
We had a number of younger guests with us so I put together some activity bags for each kid, in there I made some personalised crayons, drinks bottle, colouring books etc. these went down a treat and the parents were pleased to have something to keep their little ones entertained.
For our table names/numbers we printed out a polaroid style picture of all the cars Tom has owned including my 2 beloved yellow beetles. These came out great!
THE CAKE
So we are super fortunate that the mother of the groom is an expert baker and owner of Minkie Moo Bakery. So of course she offered to make our wedding cake! I gave Debbie complete freedom to create our cake, I gave her no input on colours or style and what an epic job she done? I mean just look at our colourful cake! True wedfest style!
Minkie Moo Bakery is 100% vegan and so it was perfect for us! She even created our dessert table which went down a treat. We are so lucky and so grateful for the amazing sweet treats we had!
YOUR PHOTOGRAPHER
So as I said above the photography was the next important thing (after getting married of course) it was important for us to find someone a little quirky that just 'got us'.
We found that in Stevie, who owns Stevie Jay Photography, ok so our wedding was in Essex and Stevie is based 3 hours away but she was happy to travel and she most definitely the photographer we wanted. Her style of editing and shooting was just what we were looking for!
I found Stevie through facebook after she advertised, saying she loves a wedfest, pizza and animals – how perfect does this sound I thought! So I got in contact and we spoke about some things and Stevie was the one!
Now I know they say you should meet your photographer but Stevie sounded perfect, her work looked incredible and she is just an all round awesome person and it definitely worked out for us! Our photos are absolutely perfect, much more than I could have ever dreamed of getting.
BRIDESMAIDS
So yep I'm that bride who wanted lots of bridesmaids, settling on 6! I have 2 sisters and then asked 4 of my closest friends. Now to get all 6 to agree on a dress some might say couldn't be done but my girls are amazing and probably would have worn whatever I have them haha.
Their dresses came from Little Mistress, they all had the same dress but there were 2 of each colour. They all loved the dresses and fitted them all lovely! They had dried flower hair slides which matched my flower crown, they used their own shoes and choose their own hair styles; again we are far from traditional and I didn't want that polished, twin look so they had the freedom to choose their hair and makeup look.
GROOMSMEN
The groomsmen had the same trousers, shirt and braces as the groom, they just didn't wear a waistcoat! They also had buttonholes which matched the groom, father of the bride and father of the groom. Although I opted to have thistles in their buttonholes and when they only had a thin shirt between the buttonhole and their bare skin they did comment how they were getting poked by the thistle lol just something to consider if you want thistles haha.
THE HONEYMOON
Of course we had to go somewhere that we could take our furbabies with us so we opted to rent a place from air b&b and head to Cornwall for a week after the wedding! We love Cornwall and its where we got engaged! It was perfect for us and even more special as we got to take Daisy and Tilly with us.
MEMORABLE MOMENTS
The poem that Tom's friend Adam wrote was a great moment and got some laughs too. The whole day was just perfect and there aren't any moments that stand out, it was just perfect!
ADVICE FOR OTHER COUPLES
Don't sweat the small stuff! We had a few people not turn up, it didn't ruin the day. Don't worry if you didn't buy enough confetti or if you invite isn't in the right shade of blue, honestly when your day is here, all the stress just goes away! Walking down the aisle I don't even remember the music being played, all I saw was Tom, so don't panic about people looking at you!