The Cowgirl Bride: Free Spirited, Bohemian, Wedding Day Styling
This creative photoshoot explores the bohemian cowgirl look and I love it. You want to wear cowboy boots on your wedding day? Go for it? Bohemian tassles? Dreamcatcher inspired earrings? Decor infused with free spirited vibes?
If this sounds like your vibe then this photoshoot is for you. My love and thanks to Jenna Collier of Wonderland Invites  for sending in these images. Handing over to you Jenna to tell us all about this glorious shoot. I need that hat!
Images by Megan Elle Photography ​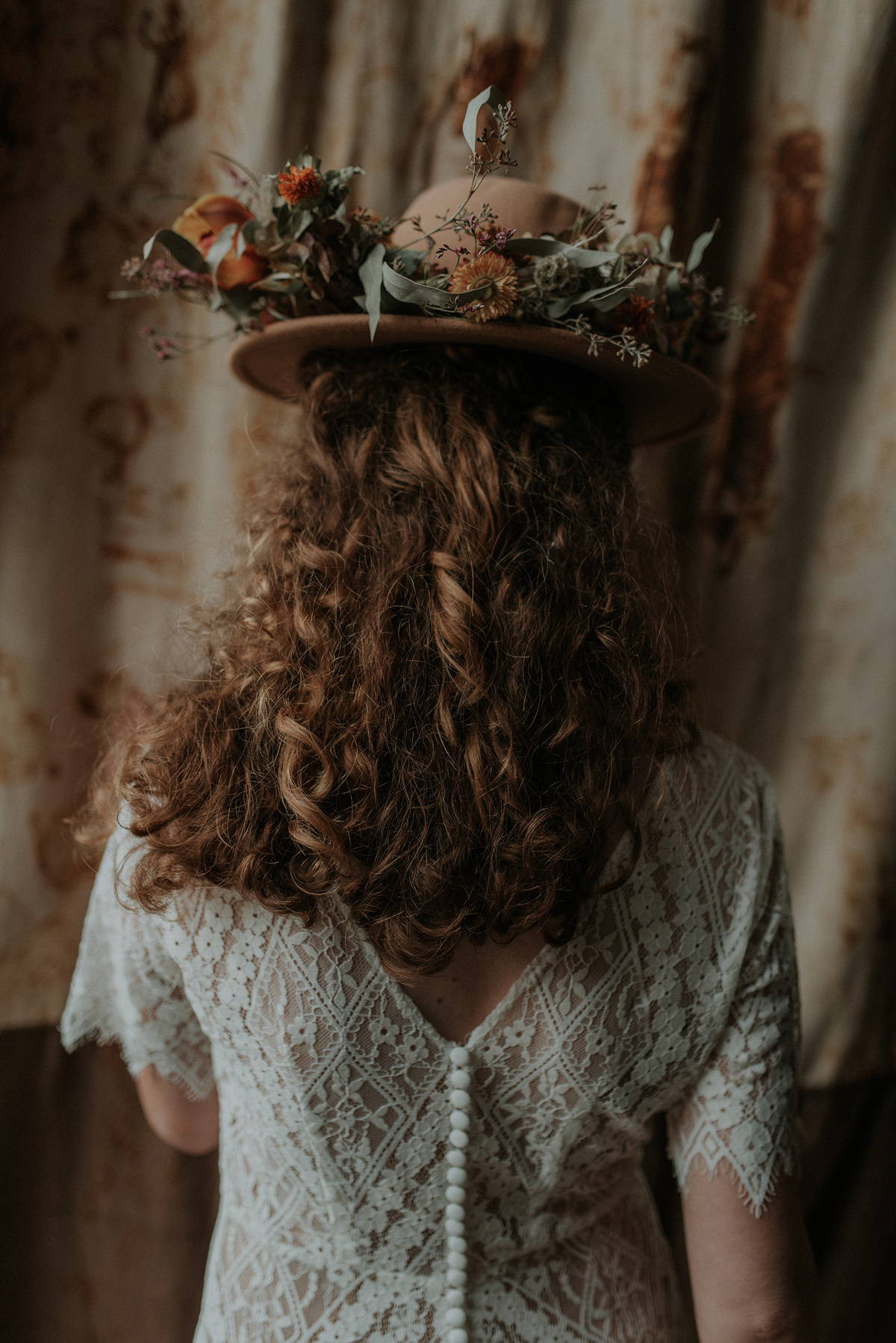 "Cowgirls riding horses, boots with intricate design, vintage wooden textures and patterned wall hangings; these were the initial inspirations behind the concept for this Cowgirl/Western styled shoot. And after seeing Lucy Can't Dance's latest collection, Cosmic Rodeo, I had to bring more weight to the ideas I originally had."
"For my latest run of styled shoots, I had gone in on concept over colour palettes; placing more of an emphasis on story lines and ensuring detail was everywhere the photographer turned. Sourcing the team for this shoot was easy enough = I had worked with most of them before and knew they would deliver against all of my crazy ideas."
"I knew I wanted Megan Elle to shoot; her photography style is romantic, modern and recognisable. She's a sucker for shooting emotion, but also for capturing little details which I knew seeing Lodge Farm Barns spaces as part of another shoot, I knew the venue would provide all of the beautiful, rustic nooks and crannies I wanted for this particular concept…offering all the saloon, wild west vibes with all the aged wood on show."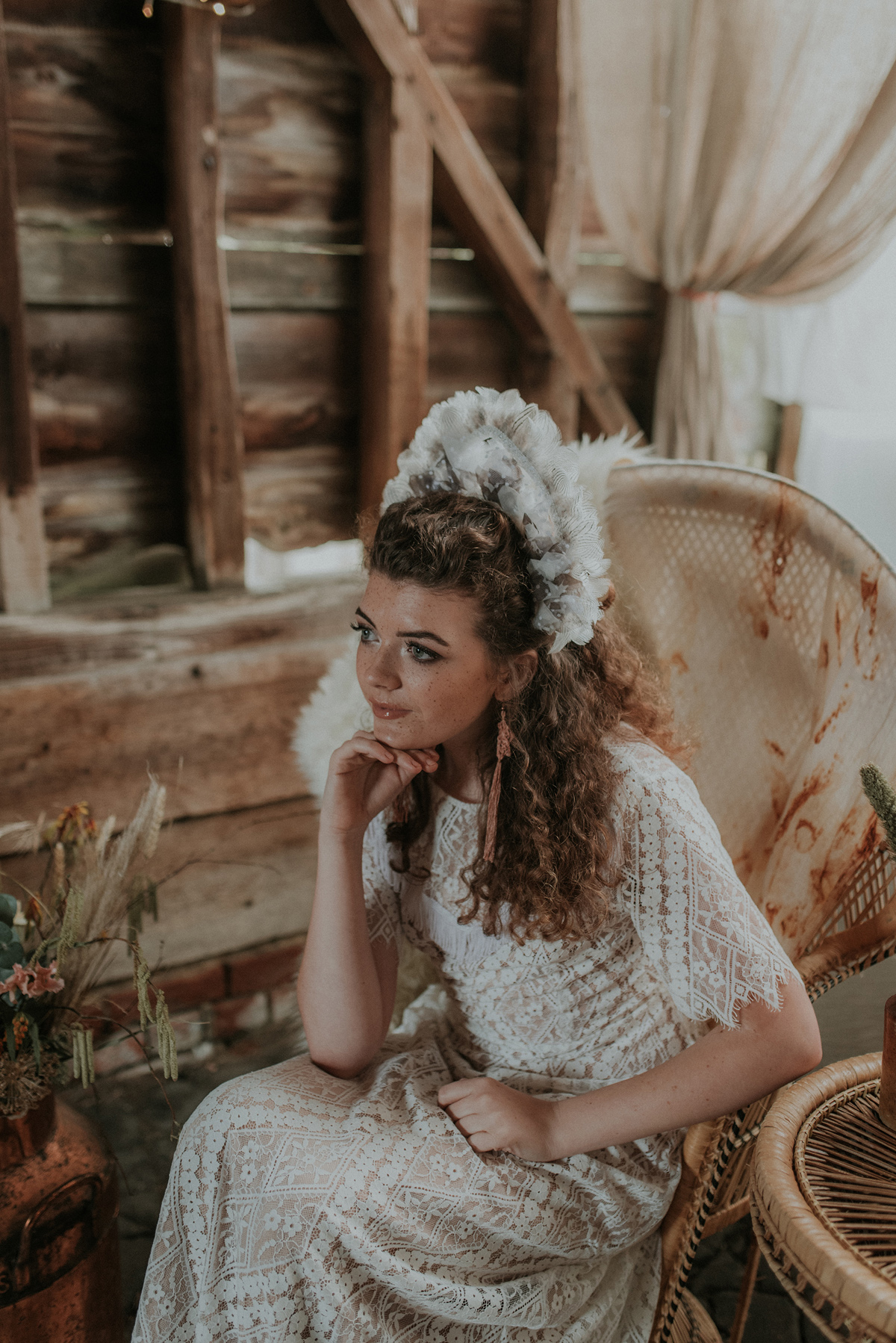 "My styling team were chosen for their dedication, their vision and above all, their passion. The teams from Rock The Day Styling and Anthology Vintage Hire worked in perfect unison to style not just one but three key areas; a tablescape, a lounge area and a peacock ceremony area."
Both teams brought their a-games and really understood the colour scheme and the inspiration of the shoot."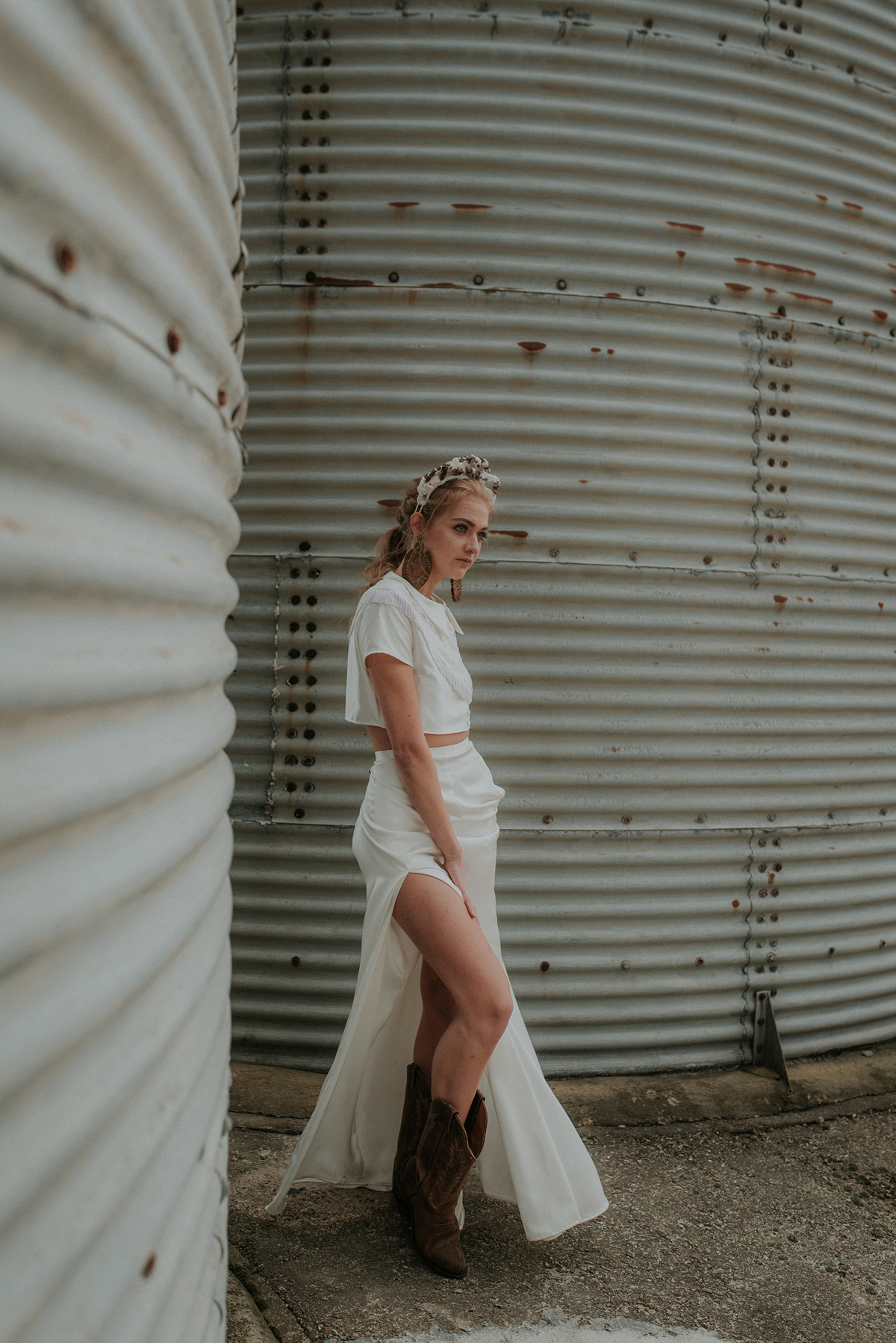 "Standout features were Anthology's rustic wooden chairs and chesterfield sofas, along with Rock The Day's handmade macrame feather place settings. A grazing table with amazing, rustic food supplied by Gather & Feast was also styled as a combined effort between Linda of Gather & Feast and the Rock The Day team."
"With it being a western styled shoot, we wanted to include our 'saloon'; Heather from The White Mule Company brought along her amazing trailer bar with added whiskies for an authentic western vibe. Two smaller areas were also styled; one for my concertina stationery and oodles of jewellery set on a sage green dresser from Anthology Vintage Hire, and the other, a barrel table for our exquisite gingerbread ranch created by the amazing Maid of Gingerbread."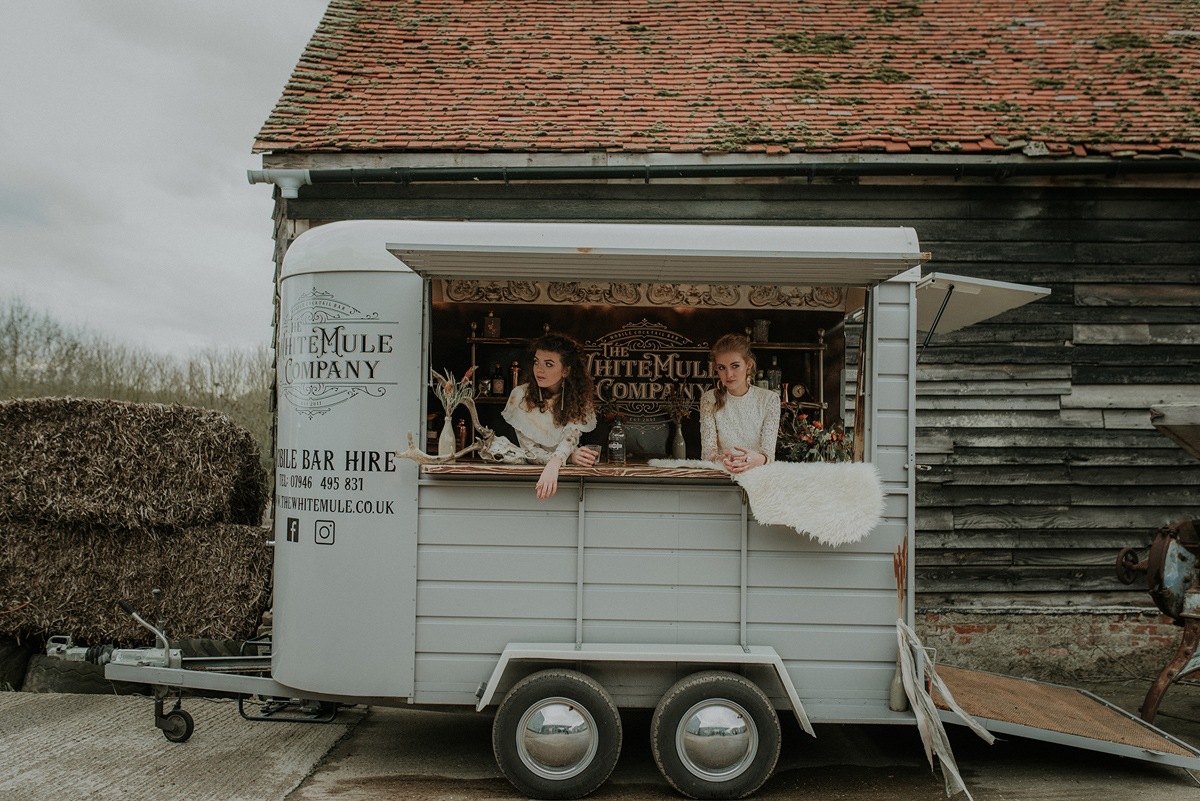 "I lent beautiful dunk plates from Studio Hethe along with gorgeous woven wall hangings and a woven mat for additional styling from the wonderfully talented Alice of Vanderhume."
"The styled areas were complemented by beautiful, seasonal flowers and foliage supplied by Passionflowers by Emma Spowage; a behemoth in the floristry scene, who's creativity knows no bounds. For the concept, Emma created a large flowing bouquet, a flower crown to place on a hat and a table centrepiece."
"On the day, she brought so much extra foliage and blooms that she was able to create two more amazing structural pieces; a corner-piece interwoven with antlers for the wooden arch provided by Rock The Day, and a stunning, dramatic composition which was placed into a copper milk churn lent by Anthology Vintage Hire."
"I provided the stationery; I had used a couple of the illustrations on a couples invites for a wedding later this summer, and I wanted to repurpose some for this shoot. I added the cowgirl boot illustration and decked it out with flowers and foliage. I hand finished the stationery with tassels, charms and envelope liners, to add some additional depth and texture."
"The day itself was not the greatest…the weather was atrocious and the models were cold…but boy did they look amazing. Hair and makeup was created by Lauren Siddons who stepped in at 9pm the night before."
"Lauren went above and beyond to ensure Holly and Louise looked and felt great – their makeup was kept natural but bold eyes were incorporated to add some depth.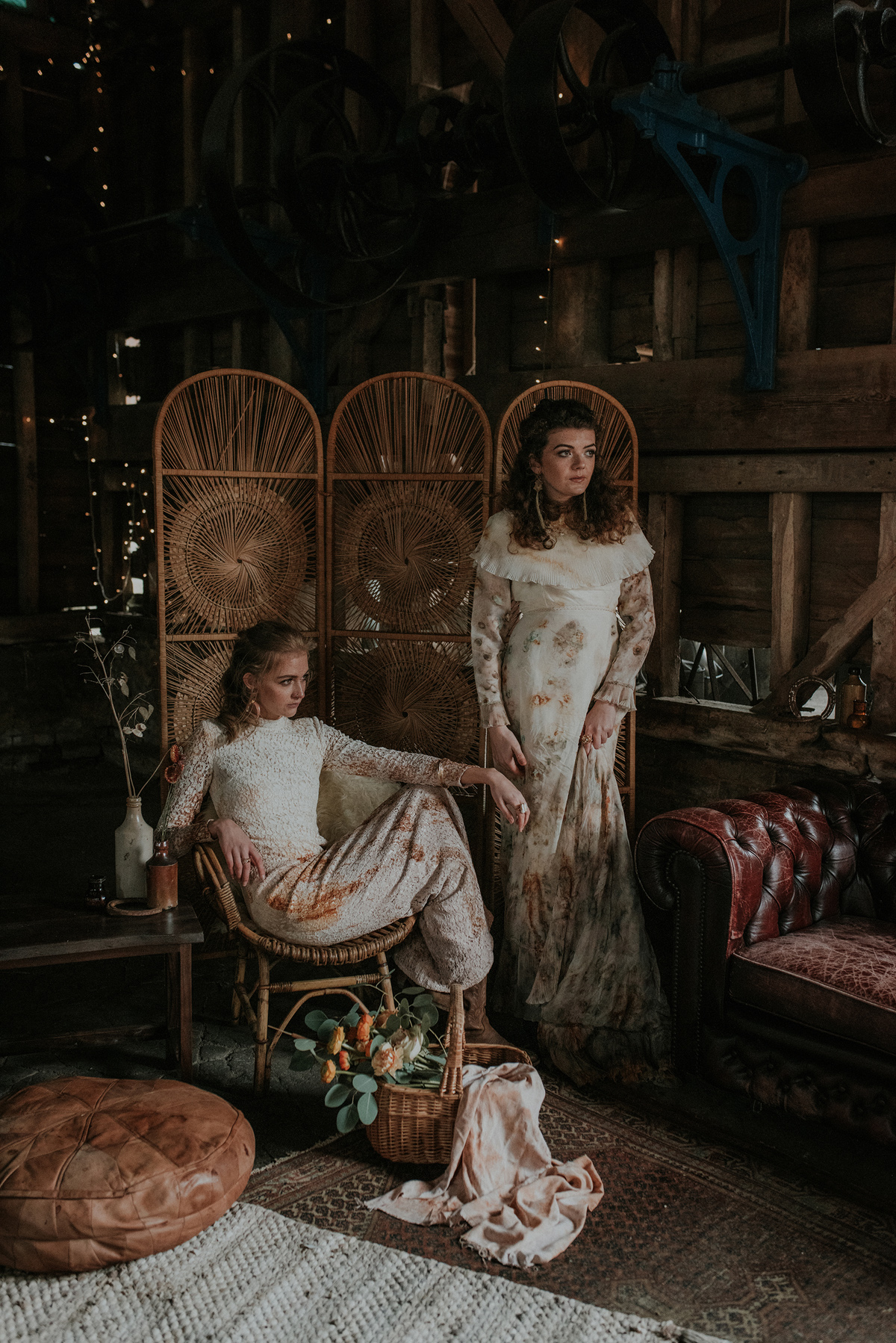 "Hair was created to complement the different additions we had for the girls; the floral decorated hat, the amazing structured hairpieces and earrings from Verbena Madrid and the different pieces of jewellery from Rosita Bonita, Black + Sigi and Vanderhume."
"Both Holly and Emily wore dresses by Lucy Can't Dance, and the day before, we decided to utilise pieces by Mia Sylvia, who was provided linens and drapery for the day anyway. I saw her dresses at Most Curious the day before the shoot, and after chatting with Mia, I thought they could work…and boy did they!"